As a valued member of PrimeSource Credit Union, we appreciate the trust you place in us. We aim to stay up to date on current health and safety concerns effecting our local community, including your financial health.
Amid increasing concerns over Coronavirus (COVID-19), your credit union wants to assure you we are taking measures to minimize risk. We have increased cleaning at high-touch points, have hand sanitizer in branches, and are encouraging proper & frequent hand washing. We have also cancelled gatherings, travel, and are asking employees who feel sick to stay home.
This situation is very fluid, we continue to monitor it and stay as up to date as possible.
Thank you for your membership.
---
Temporary Changes
In an effort to minimize lobby traffic and COVID-19 exposure, PSCU is limiting shared branching transactions to ATMs only. The credit union has suspended shared branching transactions in-person temporarily.
We have temporarily closed the lobbies at all three branches, but are still serving members through the drive-up during regular business hours.  We will allow members in by appointment to access your safe deposit box or for scheduled loan closings. Upon entering the branch for an appointment, you will be asked two questions:

-Are you experiencing any COVID-19 symptoms?

-Have you been in contact with anyone who has been tested for COVID-19, or is in quarantine due to COVID-19 symptoms?

If you answer "yes" to either question, you will be asked to return later.

We are monitoring regularly and will keep you posted on any changes.
Effective now, we will be temporarily waiving fees for payments made to a PSCU loan by phone. This applies to all members.
At this time, PrimeSource members cash transactions are limited to $2,500.00 daily maximum. A 5-day notice must be given for larger cash transactions.
---
Member Assistance Loan Program
At PrimeSource CU we understand that we are all living through unprecedented times right now. We want our members to know we are here to support you. If you are struggling with your finances due to COVID-19, we may be able to help. PrimeSource is now offering a new Member Assistance Loan Program with two options:
–6 months @ 0%APR* $1000.00 maximum
–12 months @ 3.99%APR* $2000.00 maximum
These loans do not require a credit check. Choose the one that works best for you and apply online today via It's Me 247.
*APR=Annual Percentage Rate. Rate effective 04/01/2020. Rates are subject to change without notice. No credit report required. Existing PSCU loans are not eligible for Member Assistance Loans. All loans are subject to approval. No payment due for 60 days. Must have been a PrimeSource CU member for a minimum of 30 calendar days prior to 04/01/2020 (03/01/2020). Must have been current prior to 03/15/2020 on any existing PSCU loan(s). Must be able to provide proof of unemployment due to COVID-19.
---
Remote Service Options
Visa Debit and Credit Cards

CU*Talk – Free bank by phone system 1-888-565-8555

Night drop – all 3 locations

Or call us at (509) 838-6157
---
Should I withdraw cash?

Some people say you should withdraw cash to protect yourself during the COVID-19 outbreak. Here are four reasons withdrawing extra cash may actually be the worst possible move right now:
1. Cash is vulnerable – Credit union accounts are federally insured to $250,000, making them a gazillion times safer than keeping your money under the mattress or in your pocket.
2. Cash is not required – With so many secure ways to access your accounts and to pay your bills, there's almost no reason you'll need extra cash.
3. Cash is tempting – You may actually need less cash at this time. Unless, of course, you've got it stuffed in your wallet, tempting you to spend money you would not have spent if it were secure in the bank, earning dividends.
4. Cash is, well, kind of dirty – As regards your personal health, the Centers for Disease Control and Prevention recommends always washing hands thoroughly after handling cash, because you never know where it's been.

---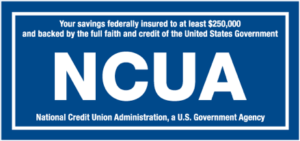 Your savings federally insured to at least $250,000 and backed by the full faith and credit of the United States Government.
---