Community Involvement
PrimeSource Credit Union is committed to supporting a variety of local charities. Throughout the year, our Community Committee & staff participate in several fundraising and volunteer opportunities. Volunteering is a rewarding experience and we are proud to help support the needs of our community.
Credit Unions for Kids
Credit Unions for Kids is a nationwide program funded by credit unions that has generated more than $70 million for Children's Miracle Network Hospitals. 100% of funds raised remain here in the community for our local CMN Hospital – Sacred Heart Children's. We raise funds thoroughout the year in a variety of ways, including: #MiracleJeansDay, donation icons in-branch, themed dress-down days, and more.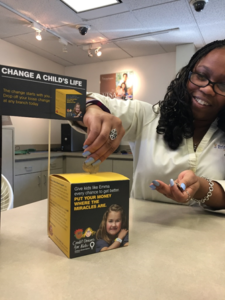 Shriner's Hospital for Children – Spokane
The Spokane Shriners Hospital treats conditions ranging from serious orthopedic conditions requiring multiple surgeries, to fractures or sports injuries easily corrected through same-day surgery. In addition, we provide physical rehabilitation, radiology and laboratory services, and casting. All care and services are provided regardless of the families' ability to pay.
-shrinershospitalsforchildren.org/spokane
Shriner's Spokane is the recipient of fundraising efforts from our annual Member Appreciation BBQ and, begining in 2019, we became the first-ever spotlight sponsor for their annual Donor Appreciation Luncheon event.
Greater Spokane County Meals on Wheels
Greater Spokane County Meals on Wheels fights hunger and social isolation among vulnerable adults. Our goal is for no senior in our community to go hungry.
We provide over 20,000 meals each month through our home delivered meal program and at our 12 Silver Cafes throughout Spokane County. But we are so much more than "just a meal." For our home delivered meal clients, we are a lifeline. Often we are their only human contact on a given day. For their families, we are peace of mind. They know that our volunteers check on their loved ones' well-being every day and we will alert them if anything is amiss.
-gscmealsonwheels.org/about
PSCU participates annually in the March for Meals, Road Rally, & various opportunities throughout the year.
Salvation Army
PrimeSource CU & our membership help the Salvation Army in a variety of ways throughout the year. A couple of events include, the Salvation Army Backpack Drive, benefiting local kids, and the Adopt A Family program, helping underprivileged or at risk families.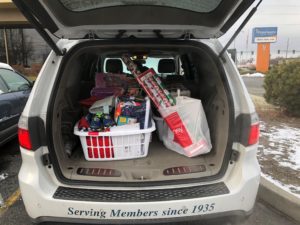 JOYA, formerly Spokane Guild's School
JOYA Child & Family Development nurtures the full potential of families and their children with disabilities from birth to age three. The annual Penny Drive is a very popular event that dynamically supports the Foundation and PrimeSource CU has joined in to help out, year after year.